RAY & KAY
ECKSTEIN CHARITABLE TRUST
FREQUENTLY ASKED QUESTIONS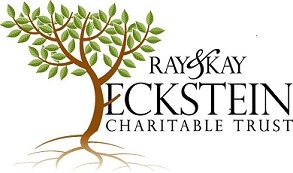 FREQUENTLY ASKED QUESTIONS
Below are some of the most common questions we are asked.  If you still have questions after reading this information, please feel free to CONTACT US.
What is the application process?
All applicants must submit their requests online through the website portal.  Before submitting a request, please make sure the organization meets the grant guidelines. 
The process is simple:
Login and create an account.  (See question below regarding creating a login.)

Complete Pre-Qualification Request (aka LOI).  Make sure that you hit the submit button at the bottom of the page.

We will send an email notification verifying receipt of the LOI.  If you do not receive an email, the LOI was not submitted.

After verifying eligibility and approval for consideration by Trustees, we will send an email notification that the grant application has be made available on your dashboard.  This will not occur until the next grant cycle after submission of the LOI.

Complete the online grant application and submit.

We will send an email notification verifying receipt of the application submission.

We may contact you during the review process to clarify or request additional information.

Grant applications submitted early in each funding cycle will be given additional consideration.

Submitting an application without requested documentation could negatively affect your application. 

Organizations are generally notified of grant decisions after the 10th of March, June, September, and December.
Who should set up an online account?
If your organization received a grant from the Ray & Kay Eckstein Charitable Trust during 2016 or later, your organization already has an established profile within our system.  This includes discretionary grant awards.  If individuals need to be added or removed from the profile, please email us at info@ecksteincharity.org and allow us to assist you with these changes.  If you have elected to create your own login within the system and your organization already has a profile, you will not be linked to your organization.
Where do I go to set up an account or login to the grant portal/grants management system?
In order to access our Grant Managment Portal, you must first go to the "Apply For A Grant Page" of this website.  You must read and accept the Grant Guidelines outlined on this page.  Once you click agree, you will be taken to our Grant Portal.  CLICK HERE for written instructions on how to set up an account in our Grant Managment System.
If an organization is a subordinate under a group exemption from the IRS such as the United States Conference of Catholic Bishops, should their EIN be used when establishing your organization's account in the grants management system?
NO!  Please use your own EIN.  We have many organizations that fall under the auspices of USCCB or similar group exemptions.  We need the EIN that is unique to your organization for identification purposes.
Our organization received a grant last year; do I need to submit another LOI to reapply this year?
Yes, our application process has two steps.  Everyone must submit an LOI to start the process each year even if you received a grant in prior years. 
What questions are asked on the grant application?
Click here for a list of application questions and requirements. 
Who makes the grant decisions?
Grant decisions are made by the Trustees.
Do you make multi-year requests?
The Trust has elected to not consider multi-year operational/programming requests at this time, but will consider multi-year requests for large, capital projects.
Do you make grants in support of capital projects?
Yes, a limited number of capital requests will be considered and funded.  Historically, we have funded capital requests from partners with whom we have an established relationship or who is directly referred to us by a trustee.
What size grants do you typically make?
Our average grant awards from previous years are as follows:
| | | |
| --- | --- | --- |
|   | Average Grant Award | Average First Time Award |
| 2020 | $39,000 | $15,000 |
| 2019 | $36,000 | $14,000 |
| 2018 | $27,000 | $11,000 |
| 2017 | $34,000 | $15,000 |
| 2016 | $33,000 | $16,000 |
What are the main areas of funding focus for the Ray & Kay Eckstein Charitable Trust?
Grant requests must have a mission that is consistent with the Trust's core values:  Faith, Family, Education, Human Needs, and Vibrant Communities.  The core values are set forth in the Grant Guidelines section of the website.
Does the Trust have funding requirements for certain geographic areas within the United States?
The Trust accepts and reviews grant applications from non-profits located in all regions of the United States.  Trustees understandably do take a personal interest in locations where they or their families reside. 
How will I know if my application was received?
The Trust will confirm receipt of applications by email.  If a confirmation is not received within 2 days, please contact us by phone (270) 534-8930, or email info@ecksteincharity.org.
Does the Ray & Kay Eckstein Charitable Trust conduct site visits?
When deemed appropriate, the Trust will contact the applicant to schedule a visit
If my full proposal is declined, am I eligible to apply again?
Although the online application system will not prevent an organization from submitting additional applications, please be aware that the Trust will consider only one full application per organization within a 12 month period.  If a LOI is denied due to capacity being reached prior to the end of a funding cycle, the organization is eligible to submit another LOI during a subsequent funding cycle.  Please refer to the table below:
Note:  We will stop taking pre-qualification requests 4 days prior to the end of a grant cycle or when application capacity has been reached.  If you have been approved during the pre-qualification step, you will be able to submit your application until close of business on the last day of the funding cycle.  
| | |
| --- | --- |
| Previous Application Submitted: | Eligible to Apply: |
| October, November, or December 2020 | October 1, 2021 – December 31, 2021 |
| January, February or March 2021 | January 1, 2022 – March 31, 2022 |
| April, May, or June 2021 | April 1, 2022 – June 30, 2022 |
| July, August, or September 2021 | July 1, 2022 – September 30, 2022 |
If my organization is awarded a grant, what are the reporting requirements?
All organizations that receive a reactive grant award must submit a final grant report. Grant reports must be completed and submitted online through the Trust's grant management system.  Refer to the table below for approximate final report assignments and due dates.  Dates are subject to change if assignment date or due date falls on a weekend.
| | | |
| --- | --- | --- |
| Grant Awarded: | Final Report Assigned: | Final Report Due: |
| Q1 – Feb/Mar  | November 1 | November 30 |
| Q2 – May/Jun | February 1 | February 28 |
| Q3 – Aug/Sep | May 1 | May 30 |
| Q4 – Nov/Dec | August 1 | August 30 |
Can I apply in consecutive years?
Yes, but please note that final grant reports from previous grants must be submitted before the Trust will consider a new request. 
What if I can't remember my grant portal password?
Directly below the login and password prompt is a link that says "Forgot Password?"  Click on the link to proceed. 
How does the Trust view repeated requests for operations and programming?
Our Trustees determine grant awards based on various qualitative and quantitative factors.  Some of these factors include but are not limited to sustainability, transparency, financial trends, leadership, mission, percentage of request to budget/expenses, percent of public support, IRS compliance, effectiveness, longevity, and the constituents served.  Repeat requests for operational and programming funding will be considered in light of these factors.  Requests for increased support must be justified and documented as the application will be thoroughly evaluated.  We encourage existing partners to discuss with us any request for an amount which exceeds prior awarded amounts.
Will the Eckstein Charitable Trust ask for bank routing information via email?
NO!  Just like many other organizations, the Ray & Kay Eckstein Charitable Trust's logo/name has been used by criminals for phishing scams.  We will not request sensitive information such as bank routing information or bank account numbers via an unsolicited email.  If you receive such an email from someone that appears to be us, please contact us immediately.
If I have media related questions or concerns, who should I contact?
Contact us prior to publishing any type of press release or photograph related to a grant award.  Either phone the Trust at (270) 534-8930 or send an email to info@ecksteincharity.org.
OUR ADDRESS
Ray & Kay Eckstein Charitable Trust
4965 Village Square Drive – Suite A
P.O. Box 7606
Paducah, KY 42002-7606
CONTACT US
Office: 270-534-8930
Fax: 270-534-8940