RAY & KAY
ECKSTEIN CHARITABLE TRUST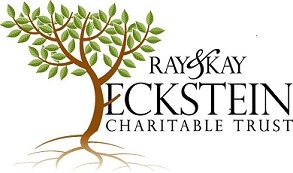 GRANT APPLICATION GUIDELINES
To submit a grant application, you MUST READ AND AGREE to the guidelines listed below.  
;
Historical Perspective
The Eckstein Charitable Trust's grant-making interests are derived from the areas that Ray and Kay Eckstein concentrated their personal giving for the majority of their married life.  The couple enjoyed giving to organizations who focused on faith, family, education, and human needs in the communities in which they resided.  It is for this reason that preference is given to organizations that are located in the following geographic areas: northeast Florida; western and eastern Kentucky; southwest Wisconsin; and southeast Louisiana.    
Core Values
Listed below are the five core areas which guide the grantmaking of the Trust:
Faith:  The Trust desires to support Catholic/faith-based programs and services. 
Human Needs:  The Trust desires to help those that are not able to help themselves with an emphasis on programs/services that provide basic human needs (food, shelter, education, and healthcare.) 
Family:  The Trust values families and desires to support service organizations offering programming focused on strengthening, building, promoting, and advancing families. 
Education:  The Trust is interested in supporting collaborative/coordinated programs and services benefiting disadvantage students or students in disadvantaged locales. 
Vibrant Communities:  The Trust supports community initiatives taking place in locations where the Trustees and their families have a personal interest.  
Types of Funding
The Ray & Kay Eckstein Charitable Trust will make grants to provide for organizational expenditures in any of the following categories:
To meet operational needs

To fund programs & projects

For capital projects

To build endowment funds (limited availability)

 
Recipient Requirements
Grant recipient organizations must comply with all of the following requirements:
Registered nonprofit organization that is recognized under the Internal Revenue Code as a qualified tax-exempt entity;

Have a mission that is consistent with the Trust's core values;

Be managed in a manner that is fiscally sound by effectively delivering services while keeping general and management costs to a minimum;

Demonstrate actual need by showing how the funds will be used and the expected outcomes on the people served; and,

Be accountable for the funds provided and capable of achieving the desired results.

 
Recipient Restrictions
Grants will not be provided to the following type of applicants:
Organizations with a mission or grant purpose that is in conflict with the Trust's values;

Supporting organizations categorized as 509(a)(3) entities;

Other private foundations;

Entities using the grant to carry on propaganda or to influence legislation; and

Individuals, unless specific IRS guidance is followed.

 
Categories Not Currently Supported
Trustees have elected to not fund the following at the present time:
Visual and Performing Arts

Environmental Causes

Sponsorships

Booster Clubs

Funding for 100% of salaried positions

Church/School capital campaigns

Organizations that are not domestically based

Organizations that have been operating less than three (3) years (IRS Determination Letter Ruling Date; 3 years of returns filed)

Multi-year Operational/Programming Requests

 
Application Requirements
If, after reading the guidelines above, you believe that your organization and its programs fall within the interests of the Trust, please complete our online application.  The Trust no longer accepts paper applications.   You should receive an email confirmation when a submission is made. If for some reason you do not, please contact our office for further instruction. Applicants are eligible to submit a full application one time within a 12 month period.
Important Dates
For a grant to be considered for review, it must be received by the close of business on the dates listed below.  A pre-qualification request will need to be initiated and approved prior to applying for ALL REQUESTS regardless of prior application or award.  Pre-qualification request deadlines are four (4) business days prior to the end of a grant cycle. All requests and grant applications must be submitted through our online grant portal.  To enter the grant portal and begin the process, click on the button below accepting the terms and guidelines and you will be re-directed to our grant portal to begin the application process.
Scheduled grant committee meetings for 2022 are listed below pending the availability of funds and/or maximum capacity of applications received per cycle:
Q1 2024  – 

 

Applications will be received October 2, 2023 – December 29, 2023 for Q1 2024 meeting.

Q2 2024  – 

 

Applications will be received January 2 – March 29 for Q2 meeting.

Q3 2024  – 

 

Applications will be received April 1 – June 28 for Q3 meeting.

Q4 2024  –  Applications will be received July 1 – September 30 for Q4 meeting.
Quarterly Trustee meetings occur after committee meetings.  All grant decisions require the approval of the full board of Trustees.  Applicants will be notified of grant decisions after the 10th of March, June, September, and December.
Applicants are encouraged to apply early in each funding cycle.  The Trust will accept a limited number of fully complete and accurate applications each funding cycle. 
FIRST TIME APPLICANTS – A decision regarding pre-qualifications submitted during a grant cycle will occur in the FOLLOWING grant cycle.  Our ability to partner with new charities is limited. Preference is given to organizations providing basic human needs. 
OUR ADDRESS
Ray & Kay Eckstein Charitable Trust
4965 Village Square Drive – Suite A
P.O. Box 7606
Paducah, KY 42002-7606
CONTACT US
Office: 270-534-8930
Fax: 270-534-8940