RAY & KAY
ECKSTEIN CHARITABLE TRUST
"The Lord has been good to us and we want to give back and help those in need."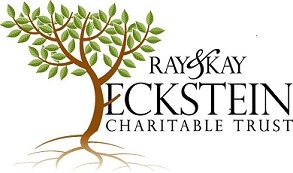 RAY ECKSTEIN
(1926 – 2019)
Ray Eckstein was born in 1926 in Cassville, Wisconsin and attended Campion Jesuit High School in nearby Prairie du Chien.  In 1943, at the age of seventeen, he left Cassville for Marquette University in Milwaukee, where he attended school on a basketball scholarship.  Ray began college with the intention of going to medical school, but it turned out that law school suited him better.  
KAY ECKSTEIN
(1927 – 2017)
Kathryn (Kay) Henderick Eckstein was born and raised in Chicago, IL.  She attended St. Scholastica Academy.  Kay left her home in Chicago to pursue an education in speech at Marquette University.  During his first year of medical school, Ray fondly remembered the first time he met Kay and thinking "she was the best looking girl I'd ever seen." 
Ray and Kay dated through college and when she agreed to marry him, it was with the condition that they wouldn't go back to his hometown of Cassville, Wisconsin.  They married in 1948 and graduated a year later, Ray with a law degree and Kay with a degree in speech.  Ray and a classmate started a law practice in Milwaukee, but didn't have enough contacts to make it work.  So with their first child on the way, Ray and Kay made the practical decision to move to Cassville where his father was well known and respected as a village board member and local business leader. Located on the southern edge of Wisconsin, nestled between 300-foot bluffs and the Mississippi River, Cassville is a small town of less than 1,000 people.   In 1949, Ray opened his Cassville law office and Kay grew accustomed to small-town life, especially enjoying the majesty and beauty of the river.
The Eckstein family grew and so did Ray's ambitions; in 1958 he started a river transportation business which later grew to Wisconsin Barge Line. With a fleet of tugboats and barges, the company carried bulk commodities from port to port along the Mississippi River. After selling his first company, Eckstein formed a new company in 1978, naming it Marquette Transportation after his alma mater and the French Jesuit priest who explored the Mississippi River. He served on the board of directors of the company until 2015 which is headquartered in Paducah, Kentucky.
The Eckstein's giving was a statement of their personal values – faith, family, education, and human needs.  Ray and Kay also supported special interests in the communities in which they resided.  Their values continue to be reflected today through the grants awarded by the Ray & Kay Eckstein Charitable Trust.
Their personal giving activity culminated in early 2005 when the Eckstein's formed the Ray & Kay Eckstein Charitable Trust.  Later that year, Ray and Kay made the decision to make a significant gift to Marquette University for a new law school facility.  They made the gift as "an expression of gratitude" to the University.  It was the single largest gift the University has ever received.
IN OUR OWN WORDS
Hear about the Ray & Kay Eckstein Charitable Trust in their own words.
OUR CORE VALUES IN VIDEOS
CORE VALUES VIDEOS
RAY AND KAY ECKSTEIN CHAITABLE TRUST
FAITH
RAY AND KAY ECKSTEIN CHAITABLE TRUST
FAMILY #1
RAY AND KAY ECKSTEIN CHAITABLE TRUST
FAMILY #2
RAY AND KAY ECKSTEIN CHAITABLE TRUST
EDUCATION
RAY AND KAY ECKSTEIN CHAITABLE TRUST
VIBRANT COMMUNITIES
RAY AND KAY ECKSTEIN CHAITABLE TRUST
"Our greatest joy is knowing that people have been helped."
"We want to make things available to those that would not have any resources to do it."
"Our parents were generous philanthropists with a deep commitment to faith and family. Their love for humanity will always be remembered and will serve as a guiding model."
The Family of Ray and Kay Eckstein
OUR ADDRESS
Ray & Kay Eckstein Charitable Trust
4965 Village Square Drive – Suite A
P.O. Box 7606
Paducah, KY 42002-7606
CONTACT US
Office: 270-534-8930
Fax: 270-534-8940